The Higgins Group in Europe
Purely Potatoes - Purely Pommies
The expansion of international trade has been one of the most significant contributions to the success of The Higgins Group in the first decade of the 21st century, and the potential for growth continues. The multi-lingual sales team at Pommies, the Group's trading company in France, is creating exciting new opportunities in the pursuit of ambitious targets.
Based in Lille, Pommies provides a springboard for marketing potatoes grown in France and other continental countries, to supermarkets, packers and major processors across Europe. The company's growing international reputation has enabled the team to develop a network of customers across mainland Europe from Scandinavia in the North, to Dubai in the South. To meet customer demands, we are able to sell washed or dirty, bulk, bags or cartons of any size and to any specification.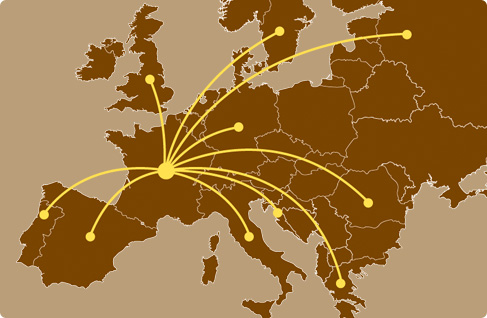 As trade within Europe continues to strengthen, Pommies is also playing a vital role in moving potatoes into the UK as seasonal demands dictate, making a significant contribution to the success of Higgins' supply chain.
Eastern Europe and Russia are exciting markets for The Higgins Group. Currently, the company is working closely with its network of European growers to guarantee quality and continuity of supply into these markets. The Group is actively seeking partners across Eastern Europe with whom it can provide integrated solutions to potato supply.
We are looking to increase our range of products by offering imported new potatoes from North Africa.
If you would like to discuss any of these opportunities further, please contact:
Dany Devinck
Office Tel: 00 333 2852 8260
Mobile: 00 336 7453 2709
Email: pommies.limited@wanadoo.fr