Purely Potatoes - Purely for Customers
The Higgins Group is a complete potato business, offering total supply solutions to its customers. The company is at the forefront of innovation and change, and has proved that lateral thinking enables continued growth in what is an increasingly competitive market – the supply of potatoes to processors and retailers both in the UK and abroad.
Higgins counts many major companies in the processing industry amongst its ware customers, who enjoy a guarantee of product security and vendor assurance. A strong grower network enables the company to supply customers with a range of suitable varieties where and when they are needed. The size of its operation, which handles the output of potato growers from all over Europe, makes it supremely proficient in the delivery of a year-round supply of the finest quality produce needed by these demanding industries.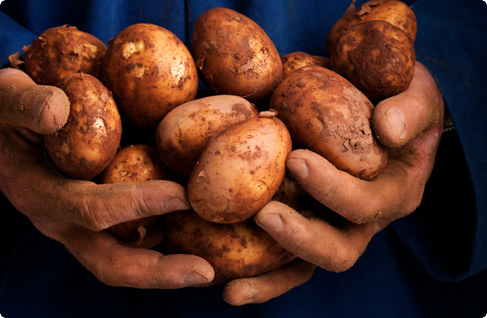 Disease diagnostics is now a viable tool in the promotion of a healthy potato crop, so alongside this resource, a new laboratory commissioned in 2003 has put the company at the forefront of seed disease diagnostics.
Recognising customers as business 'partners' is a concept eagerly embraced by The Higgins Group. This process has led to the signing of a number of long-term, sole supply agreements in return for investment by the Group in on-site potato handling facilities and staff implants to manage the raw stock. These Higgins Group initiatives provide a fine example of the mutual benefits derived from working in close partnership with customers.
If you buy seed from us, you can link from here straight to our seed page.